25037 N. 17th Avenue
Phoenix, 85085
(623) 516-2209


Desert Dragon Pottery and All The Hands have combined flames and create a unique clay learning center dedicated to teaching all clay mediums. Our studio is located on 2.5 acres private property where Hawks and Ravens fly and you still feel like you're out there, yet minutes from town. Explore clay mysteries and wonders in a home-style, fine arts atmosphere. Listen to great music and Mishy's singing, in a relaxing environment as you learn to create to your clay heart's content. Our dream studio has all the tools and expertise to outfit your clay journey. Regardless of age or ability, whether you want to learn to throw on the wheel, glaze pre-made pottery, or sculpt, there is something clay for everyone. Artists are always welcome to bring in food, beverage, or libation of choice, if of age.
25037 N. 17th Avenue
Phoenix, 85085
Happy Valley Rd. & 17th Ave, One property north of Happy Valley Rd. on the East side of 17th Ave.
(623) 516-2209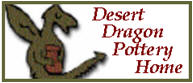 eMail me anytime at Mishy@DesertDragonPottery.com